When you have to deal with a lot of areas, they can become confusing if you don't take steps to keep them organized. Folders enable you to put your catchment areas into groups, so that you can manage them easily.
You manage folders and areas from the area-management panel at the bottom left of the screen.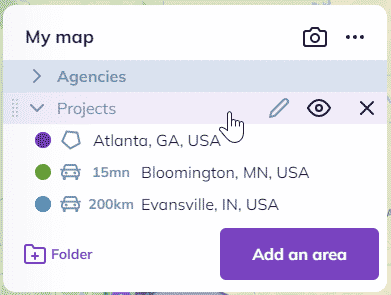 Folders are preceded by an arrow.
Each folder can contain one area or many, allowing you to group and organize them according to your needs (region, country, brand, etc.).
The different area types are represented by these icons:

Each area is attached to a folder.
---
To go further: