Discover the definition and meaning of geographic information systems, along with their uses.
GIS stands for "geographic information system". It is geographic software that creates custom maps.
A geographic information system stores spatial information and represents it visually on a map. It is possible to apply several layers of different data types, so that you can analyze each one. The software supports decision-making on, for example, land-use planning, the setting-up of new sales outlets, or the management of geo-targeting.
GISs have existed since the early 1970s. Some have developed into advanced and complex software, with both deployment and use requiring extensive geographic representation skills. Since the 2000s, however, online services have been offering more easily accessible and intuitive applications adapted to the needs of more traditional fields of business such as entrepreneurship, marketing and sales.
The varied features of geographic information systems mean that they have many potential uses, from marketing, to policymaking to city-planning:
> GEOMARKETING
Geomarketing is the application of geography to the discipline of marketing. It involves either conducting geomarketing surveys (local market research) or conducting geotargeted marketing campaigns. Read our article
> TOURISM
GIS services enable companies in the tourism sector to plan all types of activity, in order to offer their customers personalized itineraries.
> CITY-PLANNING
GISs are needed for city-planning, as urban organizational and development projects have to be able to take into account geographic and terrain analysis.
> CONSERVATION
GISs are mainly used to conduct environmental impact assessments, taking into account the various factors present on a map.
> AGRICULTURE AND SUSTAINABLE RESOURCE MANAGEMENT
In agriculture, GISs are needed to manage individual plots, trace products and monitor the global agri-food market. Sustainable resource management requires the monitoring of changes to water resources on a map.
> FOREST MANAGEMENT
Just as in the city-planning techniques used in urban areas, GISs allow the management of forests and the monitoring of changes to them.
> WASTE COLLECTION
Municipalities, agglomerations and communities can use GISs to manage their waste-collection networks.
The GIS is at the intersection of many sectors and many professions, so it still has lots of potential uses.
Try smappen, the most intuitive and easiest-to-use GIS on the market.
Start your analysis, make better decisions, map your customers and plot your competitors in a matter of minutes.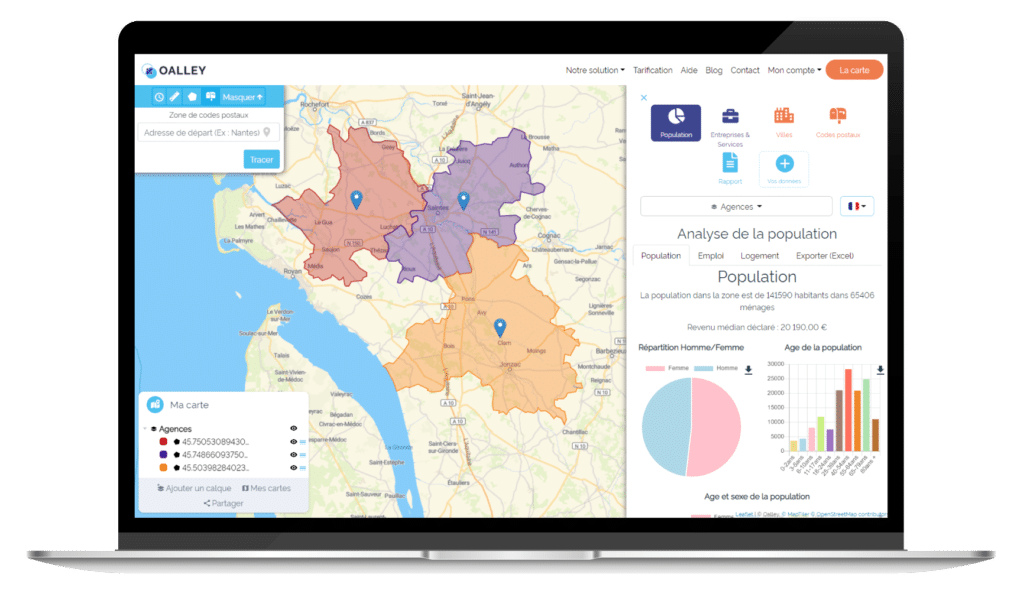 To use a GIS, you first need to know your needs:
Analyzing business performance
Getting to know your local market
Optimizing location or distribution networks
Working out the best location for your business
Facilitating decision-making
Managing and monitoring the travel of a company's employees
Allocating and assigning territories to sales representatives
Planning localized communication campaigns

etc.
Once you know your needs, you will have a clearer view of the functionalities required for the use of a GIS, as well as the complexity of the project.
You will have the choice between a classic GIS, like ArcGIS or Articque, or switching to a simpler but easier-to-use mapping tool, like smappen.
smappen has the following functionalities:
Creating catchment areas (isochrone, isodistance, zip-code, etc.)
Extracting population data (from official sources)
Importing, viewing and analyzing data
What is the difference between GIS and GPS?
GPS, or the "Global Positioning System", amounts to coordinates that give the location of a thing, place, or person. A GIS, on the other hand, is a software package that processes location data (like GPS coordinates) on a map. GISs are used to get a better understanding and visual representation of spatial data.

I have been searching for this software for years! smappen is nothing short of incredible. It is exactly what I needed and produces fantastic results. And the user interface… It is so simple!

I manage 25 territories across the US for medical device sales distribution. Mapping territories for my reps has never been easier. smappen turned me into a hero at the company!

Exceptional and personal training and support. It did exactly what I wanted it to do, with a very high degree of accuracy.