What is territory-mapping?
Territory-mapping is a method of allocating territory to an organization or person. It is very useful for two main purposes: sales-territory mapping and franchise-territory mapping.
What is sales-territory mapping?
Sales-territory mapping is a sales strategy in which territories are allocated to a field sales representative responsible for prospecting and managing customer relationships. It is used for both prospecting and customer management. Mapping is very important for sales managers, who use it to manage their sales teams and optimize their productivity.
Each territory is assigned on the basis of several factors, but the main usage is to plot leads or customers onto a map and then allocate the corresponding territories. These areas can be divided up in several ways: isochrones, isodistances, or even official boundaries like zip codes.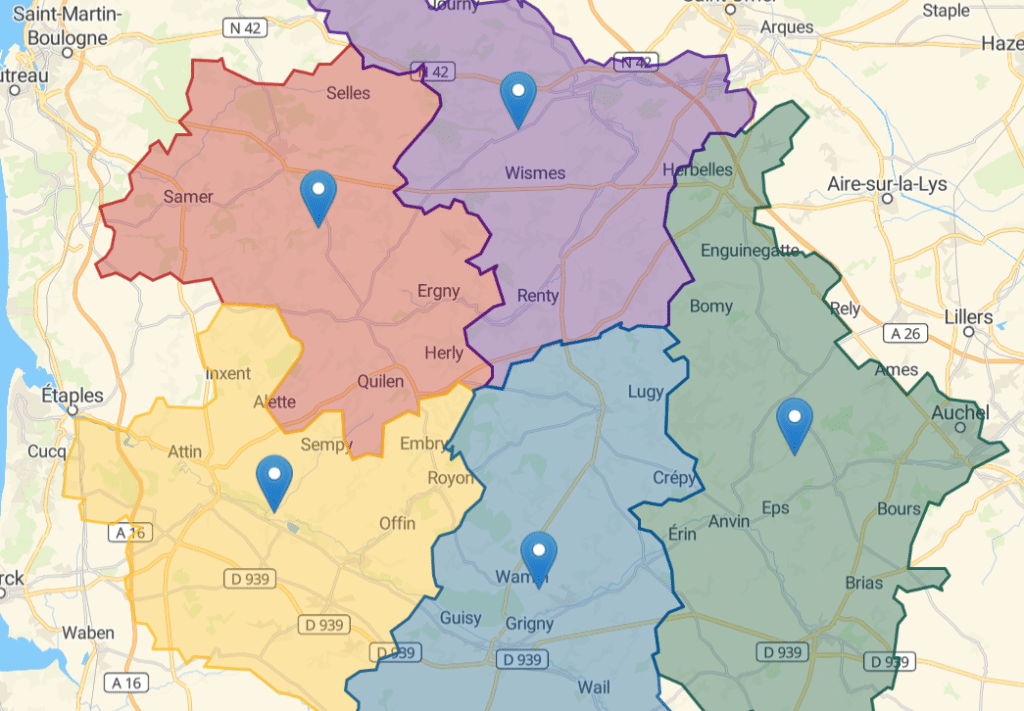 What is franchise-territory mapping?
Franchise-territory mapping consists of assigning a trade area to a franchisee. It is sometimes specified in the franchise agreement as an exclusive territory where nobody else (i.e. no other franchisee or retailer distributing the same product from the same brand) can carry out sales or marketing activities.
Franchise territories can be set out using several criteria, such as potential customers (demographics) and potential revenues. In order to be as fair as possible and avoid network-management issues, each franchisee needs to have comparable territories. The franchisor can do a zoning study to have a better idea which trade area the brand should be located in.
How do you map a territory?
The first thing you should know is what method you want to use to draw your area. Should your territory represent official boundaries (city, state, zip code, etc.)? Or do you prefer to use isochrones? Isochrones are the most common way of drawing trade areas, as they give a better sense of how the terrain impacts on the attractiveness of your business (e.g. mountains, rivers or difficult roads, any of which could prevent prospects from reaching your store). You can also use an as-the-crow-flies isodistance (radius from your point of sale). Depending on the targets or customers you've been mapping, you could also draw one manually, so that each area can be comparable.
There are lots of useful tools that can help you to map territories very easily. smappen offers you the ability to do this free of charge. Start creating a territory map
How do you create a sales-territory map?
To create your sales-territory map, you need to know which criteria you will use for drawing the areas. The most common method is to plot your customers or prospects on a map. You can then draw and assign your sales territories, taking care to ensure that they are comparable.
But how do you map your customers? You just need to have a CRM system or an Excel spreadsheet that you can import into smappen. You will have an instant visual representation of them.
If you do not have a prospect file with addresses, you can also use smappen's "Population" feature. Through it, you can access demographic data (from the official census database) and then assess each zone's potential.
Which territory-mapping app should you choose?
There are several mapping-software packages available. To choose the one that best fits your needs, you need to know which main features you need in order to achieve your goal and which data you will need. Here is a list of solutions:
Smappen
Smappen is an online tool that allows you to create unlimited custom maps, on which you can draw several types of area (e.g. isochrones and isodistances). You can sort them into layers, in order to have a clear visual representation of your plan. You can also use different colors to distinguish one from another. It also enables you to access demographic data (to assess a potential area) or import your data (CRM, or customer or prospect database). You can also work with your colleagues or franchisees, by sharing your map publicly or using the cooperation-management system, with which several people can edit the map. With smappen, you can draw up to 10 areas free of charge. After that, you will need to take out a monthly subscription to access the other features. There is no commitment so, if you don't need the software regularly, you're free to leave, coming and going as you please. You can use smappen for both franchise mapping and sales mapping. It also has lots of other uses, such as sales performance, marketing campaigns or market research.
Spotio
Spotio is specifically designed for sales. You can customize your map with territories and map your customers. It has more sales features, like task automation and sales routing. Spotio can be linked directly to your CRM software. However, it doesn't offer additional data on demographics or anything else. So, to use it, you need to have your own database. There is a monthly subscription for using Spotio.
Maptitude
Maptitude is a geographic information system (GIS). It is very comprehensive and made for many different use cases. You might need some training, as it is harder to get to grips with than the other two tools mentioned above. You can add as many country-data packages to the tool as you need. There is an annual subscription.
eSpatial
eSpatial is territory-mapping software made for both sales and franchising. You can import your data, customize your maps, draw boundaries for your territories, and plan routes. There is an annual subscription, starting at at $1,295 year.
How much does a territory-mapping app cost?
Territory-mapping software pricing varies, depending on the package chosen. It costs at least $1,000 per year and goes as high as $10,000 per year. Some tools are available for a monthly subscription with no commitment.
Manage your territories with smappen.
The most intuitive mapping app on the market. Create your areas, sort them easily and assign them. Use demographic data to assess their potential.