On Smappen, from a primary user account, you can easily add and manage additional users from your company.
Consider adding additional users when:
– There are multiple regular users in your company who use the application.
– You want to collaborate on the same map or work on different maps simultaneously.
Adding additional users to your subscription allows you to:
– Maintain control over your own maps. No more "Oops, someone modified my map without telling me."
– Collaborate on a map with multiple users at the same time.
Each additional license is billed at $30 per month.
To add users to your Smappen subscription:
1. Create a free account for the additional user on Smappen.
Use their email address as the username and choose a password.
2. From the Smappen account of the primary user (the user subscribed to Smappen), go to "My Profile."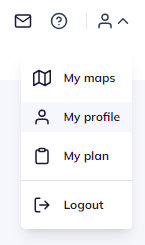 3. In the "My Users" section, enter the user's email and click "Add."

4. This new user will then appear in the list with the status "Active Subscription." Their license is immediately activated.
Please note:
Each additional license is billed immediately based on prorated usage for the current subscription month.
To manage your users/ cancel a user account:
Click on the bin icon on the user's line to cancel the user account

---
To go further: