Maybe it's time to move. Maybe you're expanding your franchise and aren't sure where to go next. Or maybe business has been so good this year that you need a new location to handle the influx of new customers. Whatever the case, you're looking at leasing or acquiring a building, and you need a way to find the best possible option. That's where site scoring comes in.
Site scoring involves breaking down a potential site for your business into criteria that help you confirm if it's a good fit. It's an essential part of moving your business or opening a new location because it'll allow you to find a site that'll promote your business's growth instead of getting in the way.
Let's dive in.
7 examples of common criteria for site scoring
One of the key criteria for scoring a potential site is how accessible it is to your target demographic. That can mean different things depending on who your customers are or what industry you're in. If you run a fast food chain, for instance, being close to a major highway is a huge boon for business—but so can being right on a university campus.
If your customers primarily drive to your business, you'll need enough parking to accommodate them, too—though this might be less important in an urban center where customers are already used to difficult parking conditions.
You could have the best product or service on the market, but if your potential site doesn't have customers passing by regularly, you won't have much of a business. A healthy amount of nearby foot or vehicle traffic is essential for any potential location. This can easily be researched with foot traffic data or you could even spend an afternoon sitting near a potential site to get a feel for how busy it is.
How easy is it to spot the location you're researching? Can a passing motorist see it at a glance? Or is it tucked at the very back of a strip mall, impossible to see unless someone drives in? You can easily research this using street view in Google Maps, following the nearest street to get a sense of how visible a site is.
Does the community around your potential site match your target demographic? If you sell high-end luxury goods, you won't want to be in a neighborhood where the average salary hovers around 50K a year. You can research this with publicly available information, like US census data.
When it comes to competition, the ideal location needs just enough to bring in your ideal customer but not so much that you're constantly on the defensive. For example, a mall is a high-competition area for a clothing franchise, but you're competing for highly motivated customers, which is good for sales. It may seem counterintuitive, but that makes a mall a better location than some sites with no competition whatsoever.
Will the physical space you're looking to lease or acquire actually support your business? A restaurant, for example, has very specific needs that severely limit the sites they can select—unless they're willing to make major renovations. However, any business needs a space that can accommodate the number of customers they can expect to serve simultaneously, and the layout needs to be pleasant to navigate.
No matter whether you plan to build your own building for a site or not, you need to know the condition of the location you're looking at. If you're building something new, what's the history of the vacant land you're planning to lease or acquire? Anything from previous attempts at construction to municipal projects and illegal dumping could have impacted the land in a way that will be detrimental to your business.
If you're buying or leasing an existing building, then these problems are more obvious. For example, older buildings might have electrical work that isn't up to code, forcing you to either pay for or endure extensive work to rewire everything.
How to develop a site scoring model
If you've never had to evaluate potential sites for your business, it's a good idea to create a scoring model. This will turn common, general criteria into a method suited to your specific needs. Here's how it's done.
Step 1: Pick criteria for your scoring model
Are all the common criteria for site scoring relevant to your business? A fast-food restaurant needs to be highly visible from the street to facilitate quick responses to those sudden cravings, while a new office for a tech company probably doesn't need that same kind of visibility. Do a bit of research to see how relevant each criteria is to your business, and don't hesitate to eliminate the ones that don't make sense.
Step 2: Give each criteria its own weight
The criteria you have left might all be essential considerations for scoring a potential site, but they're usually not created equal. For example, you might care a lot more about the demographics of an area than the condition of the building you're looking at—especially if you're already planning for extensive renovations.
To give each criteria a weight, assign them a number between 0.1 and 0.9, with higher numbers meaning you value it more. When multiplied by the rating you give them—more on that in a minute—this will automatically increase or decrease their impact on a site's final score appropriately.
Step 3: Score existing locations
Now that your scoring model is mostly figured out, you should test it out with your existing locations. Why? Not only will this help you find potential issues with your model, but it'll also allow you to use existing locations as a guide as you seek out new ones. Start by creating a table for each location where you'll give them a rating for the criteria you've identified. Then, rate each criteria, and multiply those ratings by their weight to get a weighted rating. Add all those numbers up to get your location's overall score. Here's an example of what that table might look like.
Criteria

Rating (1-100)

Weight

Weighted Rating

Demographics

90

0.9

81

Accessibility

45

0.7

31.5

Competition

35

0.4

14

Traffic

85

0.8

68

Size and Layout

20

0.5

10

Overall Score

204.5
Repeat this exercise for each location, and you'll have a good base to judge every potential site.
How to apply your site scoring model to potential locations
Now that you have your scoring model ready to go, let's see how you can make the most of it.
Step 1: Research potential locations
The first step of site scoring is finding sites to score! This can be an incredibly time-consuming process, and it can take months to build a decent roster of locations. Here are a few shortcuts you can try:
Go through real estate listings regularly:

Set aside time each day to browse some of the most popular real estate sites in your area. You're bound to find some gems that won't stay on the market long.
Network:

Put out the word that you're looking for a new location, and you're bound to hear about friends of friends who happen to be realtors.

Visit areas you're interested in:

Sometimes, nothing beats going there in person. You might spot some "for lease" signs that haven't even shown up online yet.
Whatever strategies you try, make sure you're not just waiting for potential locations to come to you.
Step 2: Use location intelligence to gather data
A location intelligence tool is an essential ally for site scoring. It can give you quicker access to publicly available information and represent it visually so you can narrow down your search and fill in the blanks for a potential location.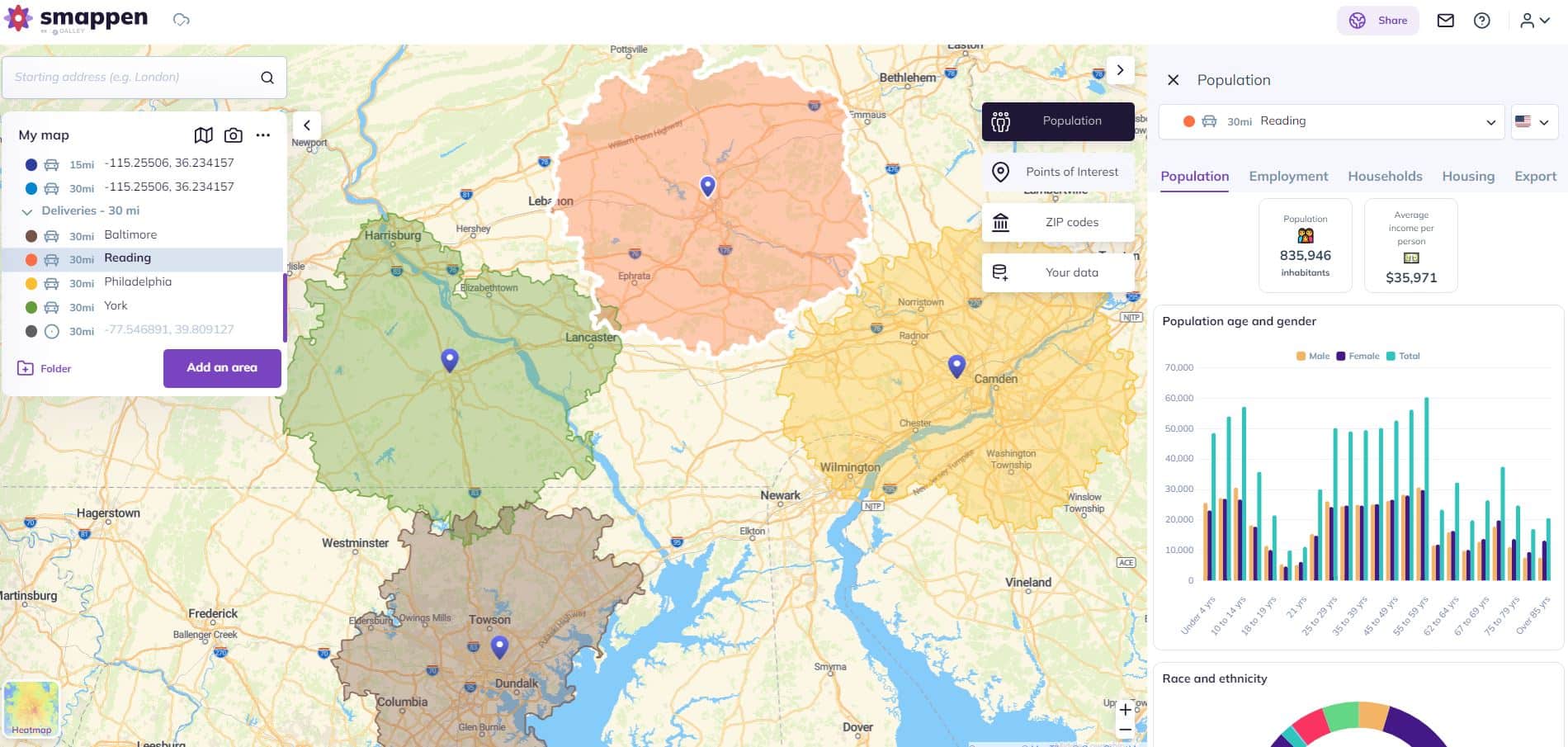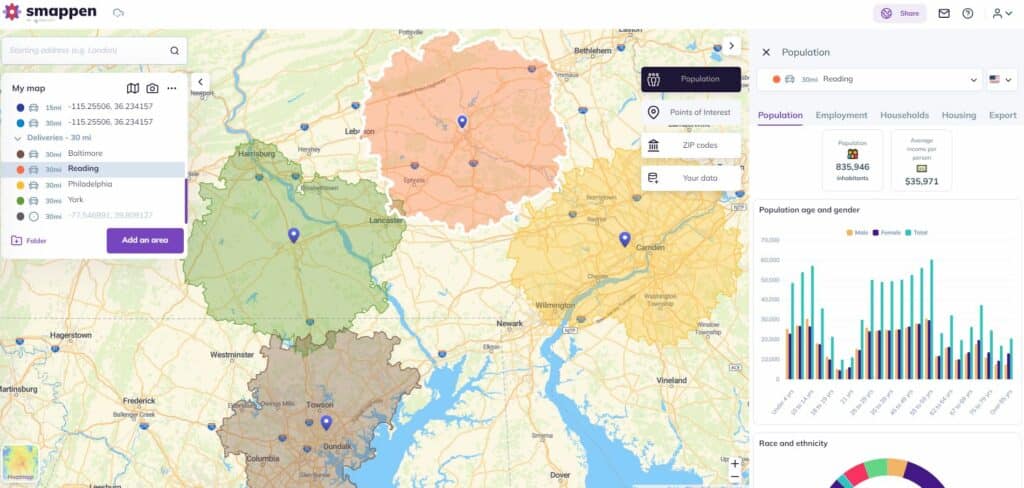 Smappen is one of the most robust location intelligence tools on the market, allowing you to draw radius maps to gauge a location's accessibility, use US census data to evaluate demographics, research your competition, and more.
Try it for free here to see how easily you can get the data you need for site scoring.
Step 3: Score each location
Now that you've picked out some locations and collected the data you need, it's time to score each one. Having carefully selected your criteria and given them weight, you have a strong base to compare completely different locations. Let's grab that table from before again and see how you'd score two completely different locations.
Location A
Criteria

Rating (1-100)

Weight

Weighted Rating

Demographics

35

0.9

31.5

Accessibility

65

0.7

45.5

Competition

90

0.4

36

Traffic

90

0.8

72

Size and Layout

80

0.5

40

Overall Score

225
Location B
Criteria

Rating (1-100)

Weight

Weighted Rating

Demographics

85

0.9

76.5

Accessibility

90

0.7

63

Competition

35

0.4

14

Traffic

50

0.8

40

Size and Layout

25

0.5

12.5

Overall Score

206
See how you can quickly get an idea of which location is better suited for your needs? While simply looking at the rating for all criteria might not give you a clear winner immediately, site scoring can help you separate the hidden gems from less desirable locations.
Site scoring is essential for making sure that the next location you pick for your business or franchise is the best possible location. Done right, it can help you make a better decision without sacrificing speed. If you skip it, then you might end up regretting an expensive move or dealing with an underperforming franchisee.