Before looking for the best location for your business, you must think about your keys to success. Here, the goal is to find the best catchment area to set up your business 📍
You must find the area where your attractiveness will be the strongest and in which a majority of your customers are located.
Research the Market and identify your customer base
Before you start looking for a location, start researching the market to identify your keys to success.
And think about how to gain a better understanding of your potential customers.
Your leads and your territory have probably some specific points you have to identify, depending on your industry. 
First of all, define specifications of your area :
About your type of territory
Do you want to set up your business in a specific city or county? What type of infrastructure or location does your commercial space require?
Those questions will help you identify what kind of area you'll need.
Some types of locations are more or less suitable depending on your industry, the target or the concept.
For example, if I offer a drive-through service, my business must be located close to a parking lot and your premises must be easily accessible by car.
Characteristics of the area
A catchment area is defined according to the travel time around your point of sale. Define this characteristic by conducting a survey of your target audience or by analyzing their behavior. Based on these results, you will be able to theoretically define your catchment area.
Another example : Let's say I want to set up a small university in Bakersfield, CA, USA. Some of the key factors that can influence the size of my university catchment area include the size and popularity of the university, the transportation options available, and the population density of the surrounding area. In this case, let's say I'm a smaller or less well-known university that may have a catchment area that is more localized, with the majority of students coming from nearby neighborhoods and towns.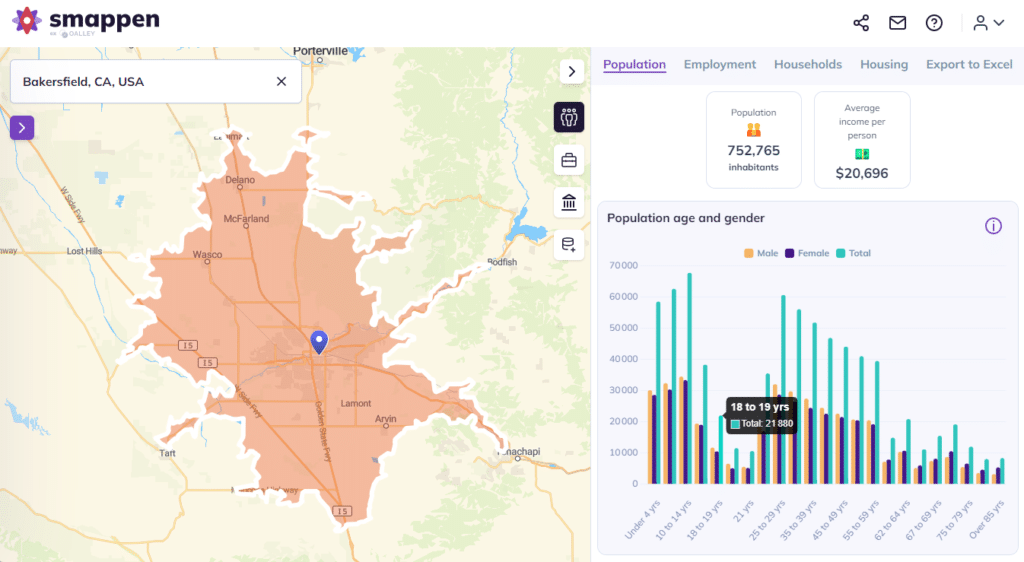 I built a 40 minutes-drive catchment area, in which I can identify 752,765 inhabitants, and 21,880 people between 18 to 19 years old.
You will always have the possibility to adapt to this area when you have data on your customers. You can import your own data on the Smappen app, and then localize each student or customer on the map. So you can determine where they come from and adapt your catchment area.
Analyze POI (Points Of Interest)
Once you've researched the market, identify your target customer base. This will help you choose a location that is convenient and accessible for your customers.
Consider Points of Interests (POI's) factors such as proximity to public transportation, parking availability, schools and traffic patterns.
And don't forget to consider Zoning Laws, that can restrict the types of businesses that can operate in certain areas.
Evaluate competitors in the area you are considering. Look at their number and locations to determine if there is potential for your business. You can also spot your prescribers to measure the balance between threats and opportunities of this catchment area.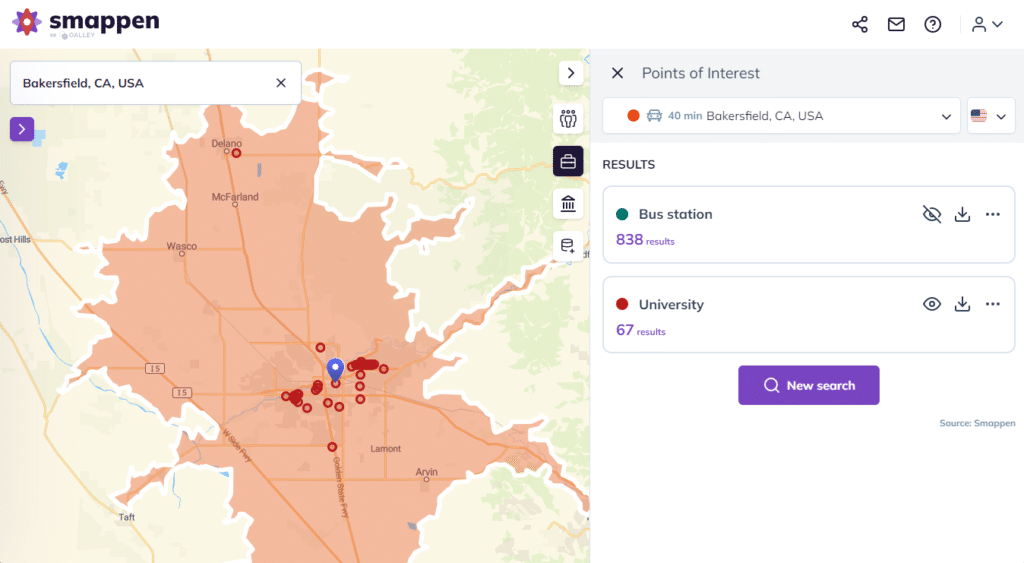 Here, I've spotted every other university in my catchment area.
Then I can export data to sort competitors according to whether they are direct or indirect competitors.
To know more about how to spot competitors, click here 😉
Use POI's to spot opportunities
Then use geodata to spot opportunities of your catchment area :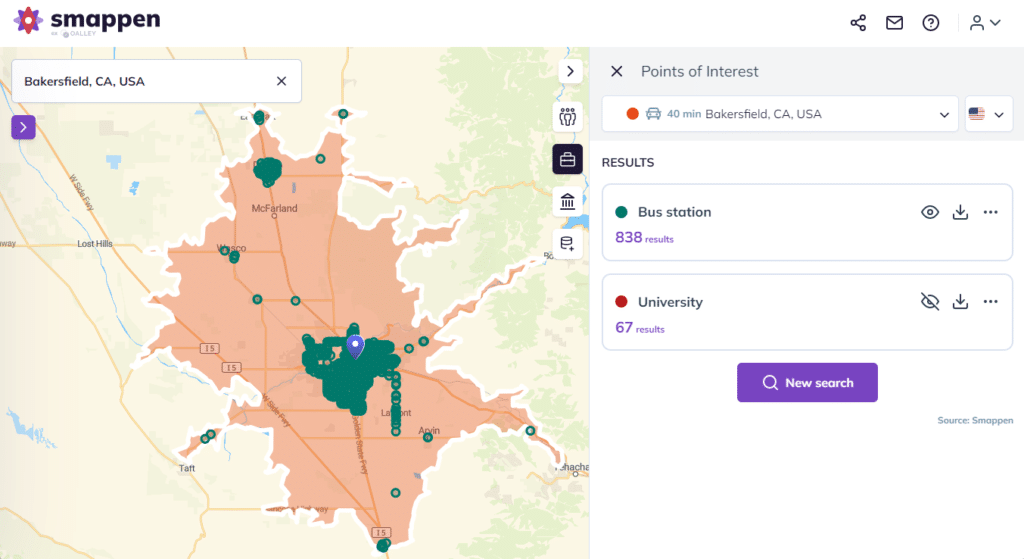 In my example, I decided to spot bus stations to have a clearer picture of where to set up my university.
When I get every information about my key factors and measured threats and opportunities of my catchment area, I just have to go for it, or not ! 👌
Finding the best location for your business requires careful research, analysis, and consideration of various factors.
By using geomarketing to :
Save time

Evaluate the market, competition, infrastructure

The suitability of your territory with your business concept and location in person
You can make an informed decision that will set your business up for success.
Remember to stay flexible and be willing to adjust your location strategy as your business grows and evolves.
Enjoy the app and fly 🚀